So, some good, some not so good here.
Good:
- Sarah started second grade this week. She has a new teacher, which is actually unusual for her program. The previous one is moving out of the country, so we have somebody else now. So far, Sarah seems to like her. I liked her quite a bit when I met her last week at "sneak a peek at your seat" day. I'm hoping this is a great year for her.
- Sean starts pre-K next week. He would have started this week, but his school does a gradual entry. In my opinion, it's too gradual. I get that there are kids who have never been to school, but how on earth is a half hour with a parent one day and an hour with a parent another day going to prepare them for a regular 2 1/2 day without a parent next week? We had our first day yesterday, which was more of a parent orientation than anything. He was nervous, but he was fine once we entered the classroom. He happily went to the classroom assistant and did a craft while I sat with the parents and went over everything.
- Sarah has gotten more adventurous with her food. She has taken more interest in pizza lately, and she is eating some regular textures in her meal. She loves diced cucumbers dipped in ranch dressing, pretzel sticks, and today she tried peas. She's had fork-mashed peas before, but she likes them at a regular texture too. She seems to find utensils unnecessary, though, so I sent off an e-mail to her feeding therapist to see whether or not I need to address that. At the moment, I'm not stressing too much over it. I think we just won't be serving those to her in public. It is nice, and I'll admit a bit weird to me, to see her actually chewing food. She had been getting around it with fork-mashed food, but she can't with regular textured food. I am still dumbfounded to see her put food in her mouth and chew it. She's slower than kids her age should be because it's still so new to her, but I'll take it. She couldn't do it at all before the clinic, so I'm really proud of her!
- Sarah has gotten SUPER brave lately in general. We went to Sesame Place last week and she rode everything. The roller coaster, the flying fish, the swings, the teacups (with Daddy and Sean because Mommy HATES that ride), and anything else she could. This time last year she couldn't work up the guts to ride the flying fish, and this time she wanted to ride it by herself. Sean was too tiny to ride without an adult (or teen) companion, so I made her ride with me. She was mad, but got over it. There were no tears over rides, and she did great. She got to hug Elmo, Abby, and Super Grover too. There was a meltdown in the bathroom I'd like to publicly apologize to the entire Philadelphia area for having to hear, but otherwise she was really good.
Not So Good:
- Sean's school moved him from morning pre-K to afternoon pre-K at the last minute. I was furious, especially because I've had to re-vamp quite a few things. The kids go to different schools, and they get out at the same time. They are about 20 minutes apart if I had to guess, so afternoon activities are becoming difficult to schedule since I haven't mastered the art of being in two places at once. I tried to see today if I could pick Sarah up and be home in time for Sean's bus (since he wasn't on it yet due to gradual entry), and I arrived when his bus did. That's cutting it too close and I'm not about to risk it. If I have to pick Sarah up, I'm going to have to do it early. Anyway, the reason they moved Sean was because of the educational goals on his IEP. The 4's special ed class only meets in the afternoon, and it made more sense to put him in the afternoon for this reason. I get that, but why nobody figured this out before last Friday is beyond me. He's learned so much over the summer that I'm wondering how much he'll need the special instruction anyway.
- Breakfast for Sarah has become World War III. Sarah seems to not like oatmeal too much, which I can handle, but she doesn't like any other breakfast foods either! The booger asks for pancakes, I think that's likely because Sean eats them frequently, and then acts even more ridiculous than she does with oatmeal. I can do the protocol until we're both blue in the face and she just doesn't care. I think she actually thinks up ways to avoid oatmeal in her sleep. Anyway, her psychologist (not part of KKI at all) suggested I give up the battle and just give her a non-breakfast food (sorry, Dad). So I think tomorrow's breakfast will be mac and cheese. That should make breakfast more peaceful.
Anyway, time to share a few photos.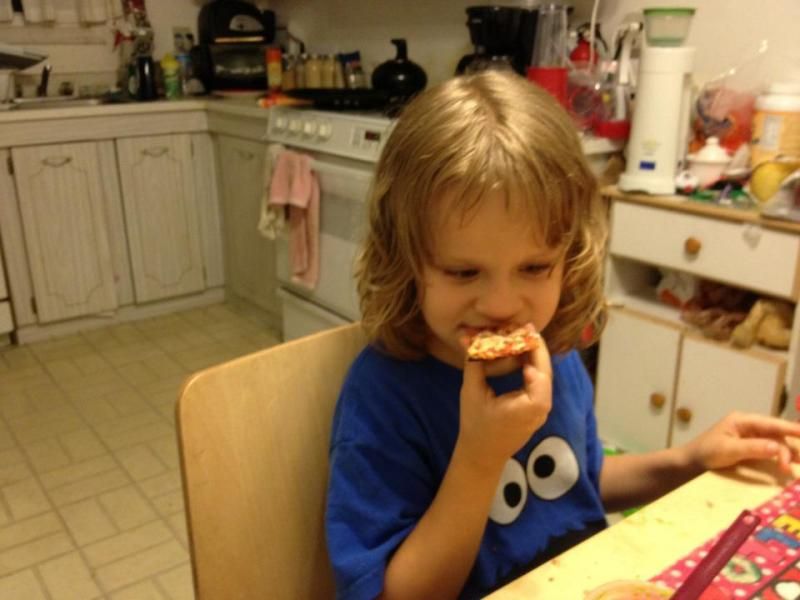 having some pizza the other night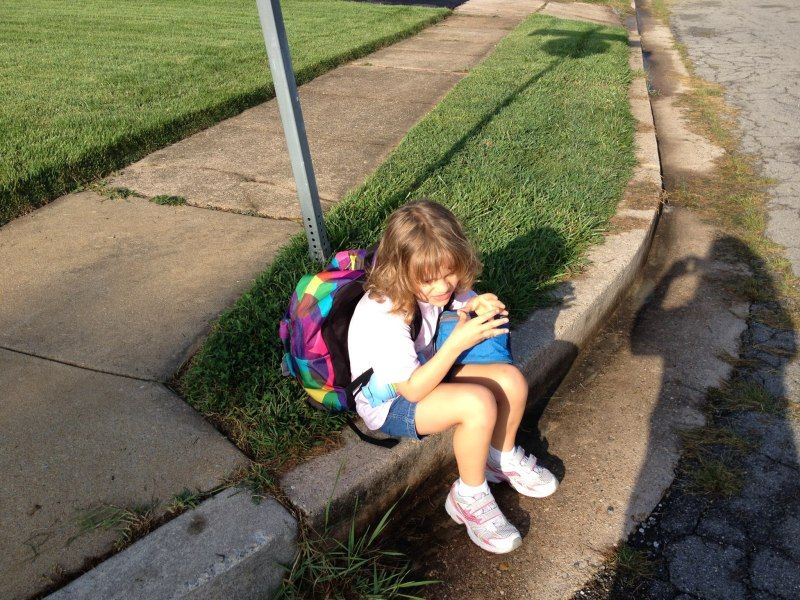 waiting for the bus on the first day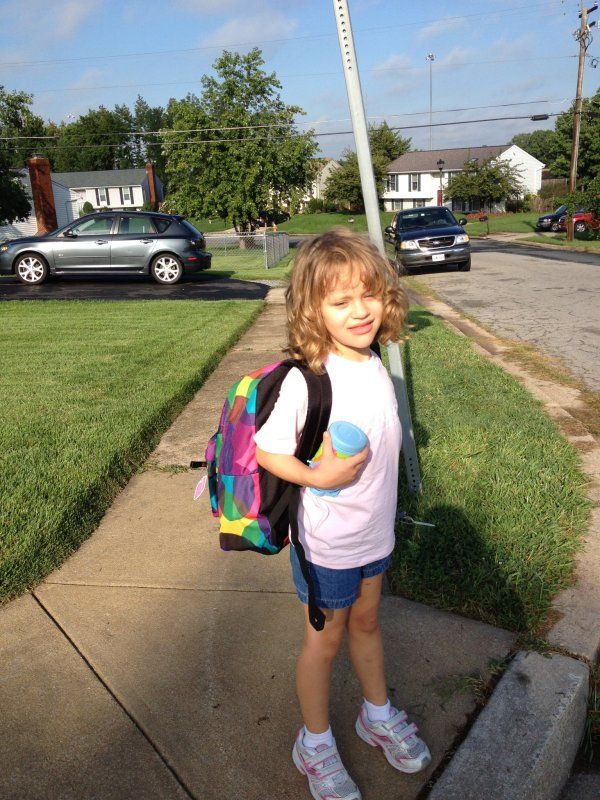 more waiting for the bus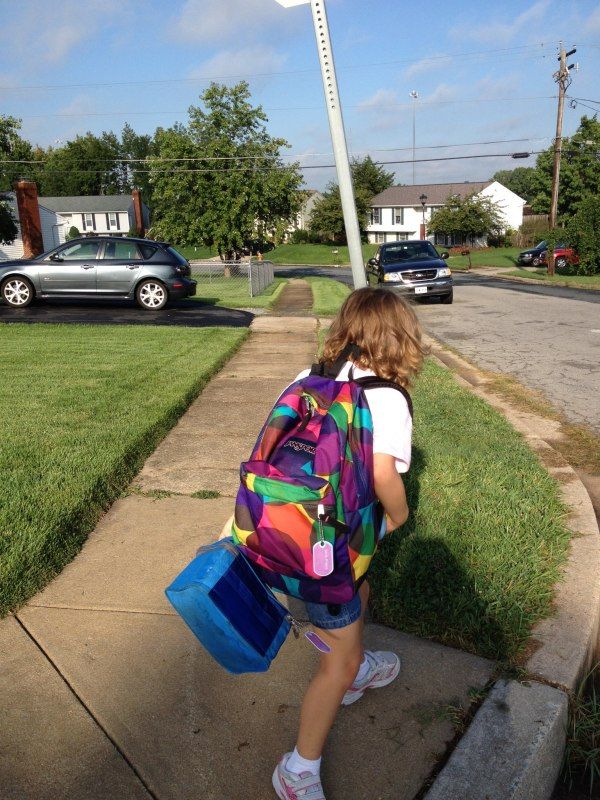 trying to get away from the annoying Mommy with the camera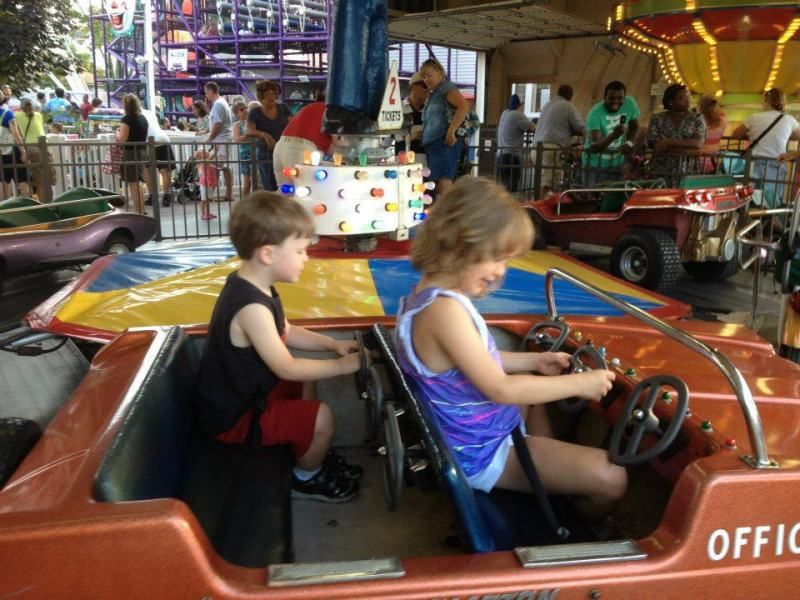 riding a ride on our recent vacation