So, I was going to write this blog on her 8th birthday, but the kiddos have me swamped lately!
Sarah turned 8 last Wednesday. The Saturday prior to that, we had her birthday party. It was probably the best one we've thrown for either kid. While the bowling party was fun last year, it wasn't conducive to having the family come as well. The swim parties we've thrown in the past are nice, but we have a lot of people who don't want to get in the pool with their kids. Or, they don't want to put the kids in the water in the winter, etc. We did one at a bounce house, which was fun, but the party room was tiny and the food was expensive. This year we rented the party room at the local YMCA. It was cost-effective, we brought our own food, and the Y provided the tablecloths, paper goods, etc. I kept it simple too - just goldfish crackers, potato chips, and pretzel sticks. I bought soda, lemonade, and juice boxes. I got Sarah a Sonic cake that she loved, so that was pretty awesome too. Her brother has already told us several times that he wants a party there too, and we are happy to oblige.
Also, for the first time EVER, we took Sarah out to dinner for her birthday. We actually did it the day after, but that was due to her dance class on her birthday. I brought cupcakes to dance class, and they were a hit with the kids. Sarah only licked the icing off of hers, but that is totally fine with me. She did the same with her piece of cake at her party.
So, here's a comparison from age 7 to age 8. She hasn't been to the doctor for her physical yet, so I don't have a height/weight comparison. I went with clothing sizes.
Clothing sizes then:
13 shoe, 6X pants, 6X or 7 tops, leotard size 6 (with a 7-8 in one brand)
Now:
2 shoe, 7 pants, 8 tops, 7-8 leotard
Food then:
baby food, spaghetti-o's (plain only), tomato soup with Elmo shaped pasta, vanilla pudding, smooth yogurt
Now:
macaroni and cheese at regular texture, beefaroni at regular texture, spaghetti-o's (with or without meatballs, meatballs need to be cut up), ravioli cut up, beef stew fork-mashed, canned spaghetti and meatballs (meatballs cut up), almost any vegetable fork-mashed, most fruits fork-mashed, vanilla pudding, yogurt with or without chunks of fruit, NO MORE BABY FOOD
Social skills then:
Can name entire class and staff at school, greets others properly, but no real friends
Social skills now:
Still names class and staff and greets others properly, has a BEST FRIEND
Reading then:
10 sight words (maybe)
Reading now:
Not sure of the number of sight words, but she can read simple books with some help, probably 30 sight words now if I had to guess
Math then:
could count up to 100, identify up to 3-digit numbers
Math now:
Can do simple addition and subtraction with help
Bus then:
Would be scrambling to get ready and nearly miss the bus (although I blame the nearly missing the bus somewhat on the driver who never looked at our front door to see me signal that Sarah was almost ready)
Bus now:
Waits for the bus BY HERSELF and gets off BY HERSELF as well
Favorite character then:
Elmo!
Favorite character now:
Sonic (although she still loves Elmo)
I can't believe how much she has changed and grown in just a year.
And here are a few pictures:
Birthday cake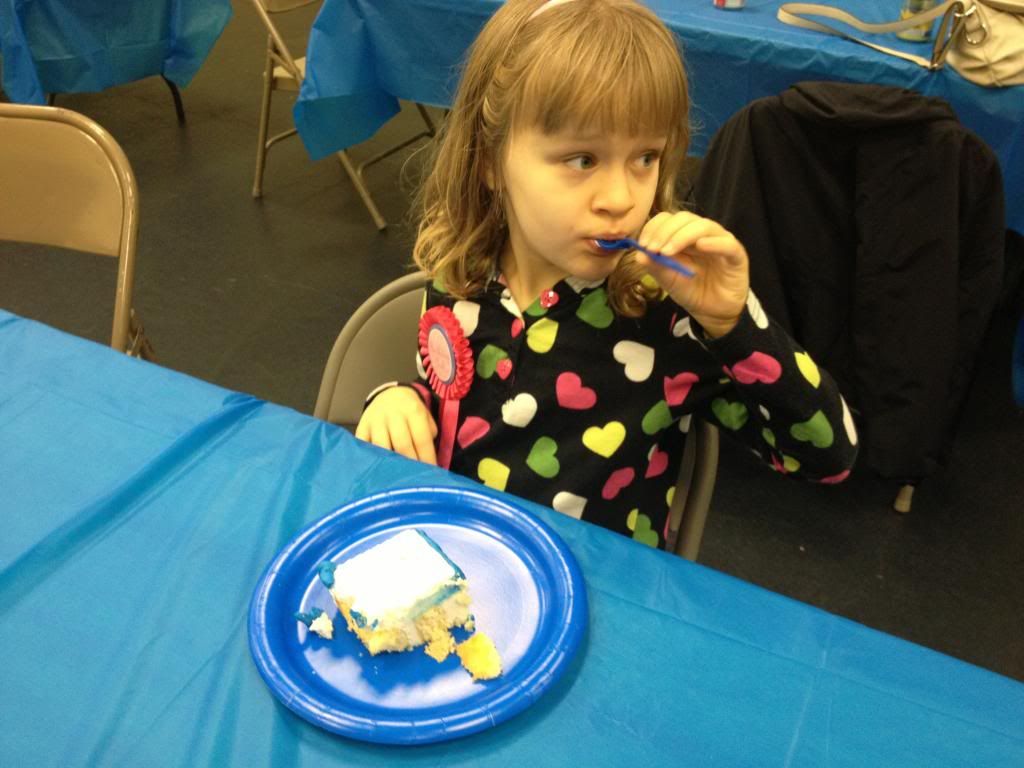 Eating her cake
Excuse the expression, but here she is on her birthday ready for dance class in the new outfit she got from friends of ours.
Enjoying her personal pizza from Pizza Hut that the manager gave her for free for her birthday
Playing Nickelodeon Dance on the Wii with her best friend
Sharing a hug with her best friend